As one of the three main DJs on Apple's radio station Beats 1, Julie Adenuga has become one of the most influential taste-makers in the UK.
But the broadcaster says she's stopped listening to the hundreds of songs she gets sent every day, because she was losing her "natural connection to the music".
"I missed having actual moments with music," she tells the BBC.
"When I found a song I loved, the memory would be, 'Oh, I was looking at my inbox and reading an email and there was a press release from some person, and I heard their song and it was really good.'
"I forgot that, because people discover music through me, my experience of discovering music still has to be exciting. So I made a point of not looking for new music any more. I made a point of allowing it to find me.
"I want a friend to tell me about a song; I want to go out and hear it for the first time; I want to see an artist I've never seen before and go, 'This is amazing!'"
Luckily, the last couple of months have been loaded with incredible songs, all of which found their way into Adenuga's headphones.
Her personal playlist features songs by UK rappers Novelist and Stefflon Don alongside chart-topping pop from Dua Lipa and tracks from Cardi B's debut album.
"I didn't realise how easy my job gets when all the music is really good," she says. "The show flies by."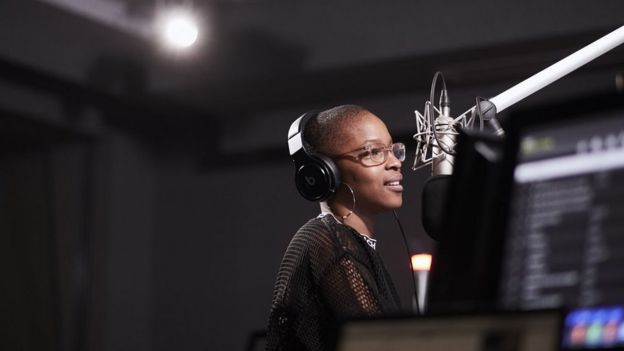 Adenuga's weekday broadcasts are a blast, her innate enthusiasm and charisma bursting through the speakers like a dart.
"Guess what I decided to do today?" she asked listeners in a typically unguarded aside earlier this week.
"I decided to be happy, even though I found a grey hair on my head – months before my 30th birthday!"
Adenuga is such a natural broadcaster that it's a surprise to learn she fell into it by accident.
Swift rise
After leaving school, she dropped out of an Events Management degree and was working in an Apple Store in 2010 when she and her best friend, Sian Anderson, blagged their way into presenting a weekend show on London's Rinse FM – the pirate-turned-legitimate station that rose out of the jungle, garage and grime scene.
The pair were clueless at first. The words "can you hear me?" practically became a catchphrase as the duo found themselves literally and metaphorically in the dark.
"The lights used to go off and we didn't know how to turn the fuse box back on," she recalls.
"It was actually quite fun."
Despite the shambolic nature of the show, the presenters' kinetic chemistry shone through. By 2012, Adenuga was presenting the station's drivetime show, where she interviewed the likes of Disclosure, Tinashe and "Snapchat prince" Stormzy.
She was snapped up by Apple for her deep knowledge of the grime scene – her older brothers are Skepta and JME – but Adenuga was adamant that wouldn't define her show.
"I did feel a lot of people's perception of me was quite skewed. Like, 'if she's got a show on Beats 1 it's going to be a grime show.'
"So the conversation at the very beginning was like, I wanted to make sure that when I felt like playing something, I could play it. It doesn't matter what it is."
As if to prove it, Adenuga spent a recent show playing back-to-back Taylor Swift hits, fading up her microphone so she could sing along at the top of her voice.
"I'm glad you noticed that," she cackles. "I love Taylor Swift!"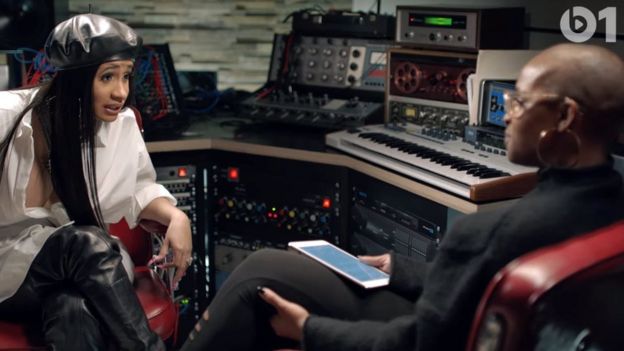 Julie Adenuga was born to Nigerian immigrant parents and raised on the Meridian Walk estate in Tottenham, in north London. Money was tight but the family was tighter.
"If you grow up with lots of siblings, the fun is in the house," says the DJ. "It wasn't until we all got to 15, 16 that we started to go outside and have our own friendship groups."
Her parents were strict, but they loved music and encouraged the children to be creative.
"I think it stems from not having a lot of money. Anything we wanted, we would have to create. We would make go-karts out of wood and bits of discarded prams people would leave in the estate."
There was one exception, though. The children always had the latest games console.
"I don't know how or why," says Adenuga, "but I think that's where the music came from – 'cos my brother just started making music on the PlayStation and Mario Paint."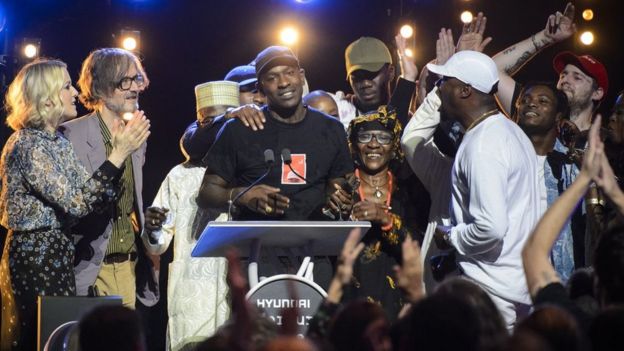 But while Skepta and JME launched the grime collective Boy Better Know, and their younger brother Jason got into animation and soundtracks, Julie found herself at a loose end.
"I left school not knowing what I wanted to do," she says.
"I'm such a logical, methodical thinker that that was the biggest weight on my shoulders. I didn't know who I was supposed to be. I knew what I was interested in, but I was never super-passionate about anything.
"Even now, if someone said to me, 'What is your biggest passion?' I couldn't tell you."
Surely it's music?
"But it doesn't feel like a passion to me, because that's just who I am," she replies.
"Music has been a part of my life from day zero. If I was working anywhere, I'd be listening to music and I'd be telling people about music and I'd be posting about music, and I'd be singing the songs that I love.
"Maybe it's such a passion that I don't even realise that it is one?"
It's fascinating to watch this play out on her face – the dawning realisation that possibly, maybe she ended up doing the very thing she loves by mistake.
To an outside observer it seems so obvious. Adenuga (who's never short of energy, despite admitting she only eats once a day) becomes especially animated when she talks about music.
She excitedly recalls the time she played the Ivorian dance song 1er Gaou in the middle of her Beats 1 show.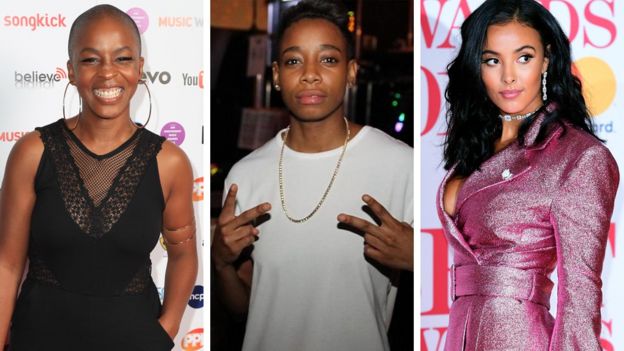 "It's a song that's played at every party I've ever been to," she says. "It's the one that comes on at the end of the night, that doesn't fit with all the other music, but it's like a fan favourite.
"And I played it on the radio and people were tweeting about it. I was like, 'I kneweveryone loved this. I knew it wasn't just me!'
"That's the feeling I want on the show. You can play all the obvious stuff but what's the point? Someone else is already playing it."
Since joining Beats, Adenuga's profile has raised inexorably – and she's easily holding her own alongside the station's more established presenters, Zane Lowe and Ebro Darden.
She's found her place at a time when women still only make up 25% of the presenters on UK radio – but the star says change is coming,
"When I was on Rinse, it was only women presenters," she says. "There was me, Sian Anderson, Yinka Bokinni, Maya Jama, Emerald Rose, Katy B, Tanita Taylor… We used to sit down and say, 'We need to find some men!'
"I think that's where that 25% has come from. And if you look around, we've got A.Dot, Clara Amfo and Maya Jama on Radio 1 and 1Xtra as well.
"The 25% is the rise of the next generation."